Temenos when they launched the Infinity product, there was a lot of excitement on what this product will offer and how will it change the way people banked. This blog aims to summarize key characteristics of the product.
Being the first core-agnostic product, Temenos Infinity elevates customer experience journeys to newer heights through its power-packed AI-driven engine. The robust microservices based architecture plays its trump card for enabling customer personification through its standalone distribution services, beyond banks existing digital banking capabilities.
The endless possibilities of Temenos Infinity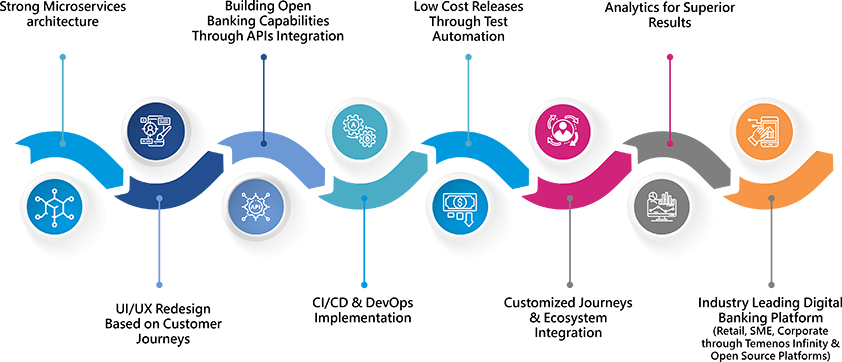 Top 8 things you should know about Temenos Infinity
Let's us begin with the product architecture.
Temenos Infinity product architecture is agile, it permits distinct and faster upgrades, and improves scalability. The product is cloud native and is easily deployable on any platform. The modular design of Infinity, where banking capability is deployable as separate, productised modules, allows Temenos to deliver capability on any scale within the bank's ecosystem. The deployment of Infinity is different for every bank based on their business requirements. Infinity's marketing and user modules can reinvent bank's digital channels through its new mobile application.
API First!
The product uses APIs. This helps Infinity fit anywhere, and allows the bank to swap in, swap out or develop resources as its digital strategy evolves. Temenos Open APIs (a readymade repository of over 700 customizable banking APIs) are backed by a developer portal, which streamlines its passage to connect with banks ecosystem partners for offering best-of-breed experience.
Design Engineering
Infinity is very intuitive in design. Banks can take advantage of the Infinity's solution features for servicing and cross-selling products/services based on customer profile. Infinity's design tools allow banks to quickly adjust or create workflows, products, and services. With its built-in AI engines and behavioural analytics capability, it advocates the bank to extend new services and offerings for their potential customers.
The closest reality check of Infinity includes a famous case study, where-in a banking organization almost took a year to launch its 47 competitive products in comparison to another bank which just took 10 days to analyse, modify and release the design changes for offering their new services.
Real-Time Marketing
Infinity's real-time marketing capability helps demonstrate the product's emphasis on personalized customer journeys. Real-time events that are initiated by customers, the bank, or external parties, are subject to Infinity's digital decision engine. Every data source, from account activity and location to social media and biometrics, is analyzed to deliver the correct product offer through the correct channel to the correct person in real time.
Intelligent decisioning, a highly customizable workflow and smooth third-party integration are all designed to drive both customer satisfaction and build long lasting relationships with those customers.
A deeper explanation for Infinity's agility and flexibility lies in the decision to bring the marketing catalog, product details and banking processes out of Transact (the core banking product) and into a completely stand-alone front office.
Single Experience Platform
A banking organization is large and it needs a seamless flow of information among all the departments. Temenos Infinity provides an intuitive interface which help the bank enrich the customer experience all through the customer journey. The product offers one-bank experience to customers.
Deeper Analytics for Superior Results
It is a no brainer that deep data analytics is helping banking organizations reap huge benefits. Temenos Infinity uses an analytics engine which not only helps the banks improve their profitability, but it also helps improve the market penetration by analysing the consumer behaviour and banking patterns.
Microservices Architecture
Temenos Infinity's microservices architecture offer limitless flexibilities to deploy independent microservices. These microservices are translated as cloud-based API's for enabling banks to easily connect with their ecosystem partners, developers and Fintech community.
Faster Time to Market
Get the speed-to-market of a boxed solution with the flexibility to control your roadmap. Bring products and digital initiatives to market in week, not even months or years. Then continuously improve and measure results. Temenos Infinity is the leader in customer experience agility.
At Maveric Systems, we bring our connected core promise alive to #AccelerateNext using our strong team of 550+ Temenos specialists who offer encyclopaedic Temenos proficiency. We analyse, implement, upgrade and support Temenos suite of applications, with our contextual solutions and services. With our best practices, proven methods, tools and accelerators, we unlock maximum returns from your Temenos investments.