As competitive rivalry increases, banks are developing online platforms that meet consumer aspirations for efficiency, convenience, and overall engagement. Digitization increases banking client experience, and brick-and-mortar banks compete with virtual or online banks. These banks have reduced overheads and offer better offers and customer-focused platforms to take over a market that needs to be addressed, handled, or left by more-fancy names.
Banking Apps Dominate Post-Pandemic
Globe Newswire estimates that the global mobile banking market will grow 12.2% from 2019 to 2026, from $715.3 million to $1,824.7 million.
Statista reports that 90% of US mobile banking app users check their accounts, 79% examine recent transactions, 59% pay bills, and 57% transfer. These figures show that many people utilize mobile banking services. Hence a decent mobile app UI is essential.
Between December 29, 2019, and March 1, 2020, when the COVID-19 pandemic began, Statista found that the average weekly usage of fintech apps in Japan, South Korea, and the US increased by 55%, 35%, and 20%, respectively.
The growing case of QA for Banking Systems
Financial quality assurance boosts product performance and quality. QA initiatives must be well-planned to satisfy rising customer expectations. This implementation needs enhanced test management programs to eliminate post-production problems to remain competitive. User experience and cyber-security must be tested together. Letting bugs slide through the holes in banking can have serious legal, reputational, and customer-life ramifications.
These solutions strengthen fundamental systems and automate operations to minimize testing expenses. Testing narratives must be diverse and extensive as applications become more sophisticated and interconnected. Financial quality assurance provides a cutting-edge user experience, meets expectations for integration, navigation, and responsiveness, and secures finances and personal data. Success in these areas is the only way to compete with consumer needs and new banks.
Partnering with banking domain experts like Maveric Systems for cutting-edge QA systems helps to lead FIs to create competitive differentiation in the marketplace.
Points of Emphasis for QA systems in Banking organizations:
Cyber Risks – Banker and account information are the most crucial parts of QA assurance. Banks need help to stay up with security as new tech is exploited. Vulnerability testing helps stay up with this QA race.
Cloud Infrastructure – When moving infrastructure to the cloud, banks should employ a hybrid system with the most sensitive procedures in their private cloud and the remainder in the public cloud. QA tests cloud apps to guarantee a smooth transition and secure data migration.
Third-party app integration Banks must integrate with several third-party apps. Retail, eCommerce, gaming, etc. Functional and integration testing verifies that these applications work effectively with the banking app, which will significantly improve user experience.
Early Engagement – Customer, vendor, and continual communication develop these criteria and necessities early on. This ensures stakeholders and dev teams can examine requirements without violating current or future workflows. Each scenario can then be realized to meet client needs.
Navigation — From a client standpoint, this is the most obvious, but many banks still struggle with it. Internet banking apps often crash unexpectedly, ruining the user experience. Usability testing is essential for banking QA since apps must help clients reach where they want to.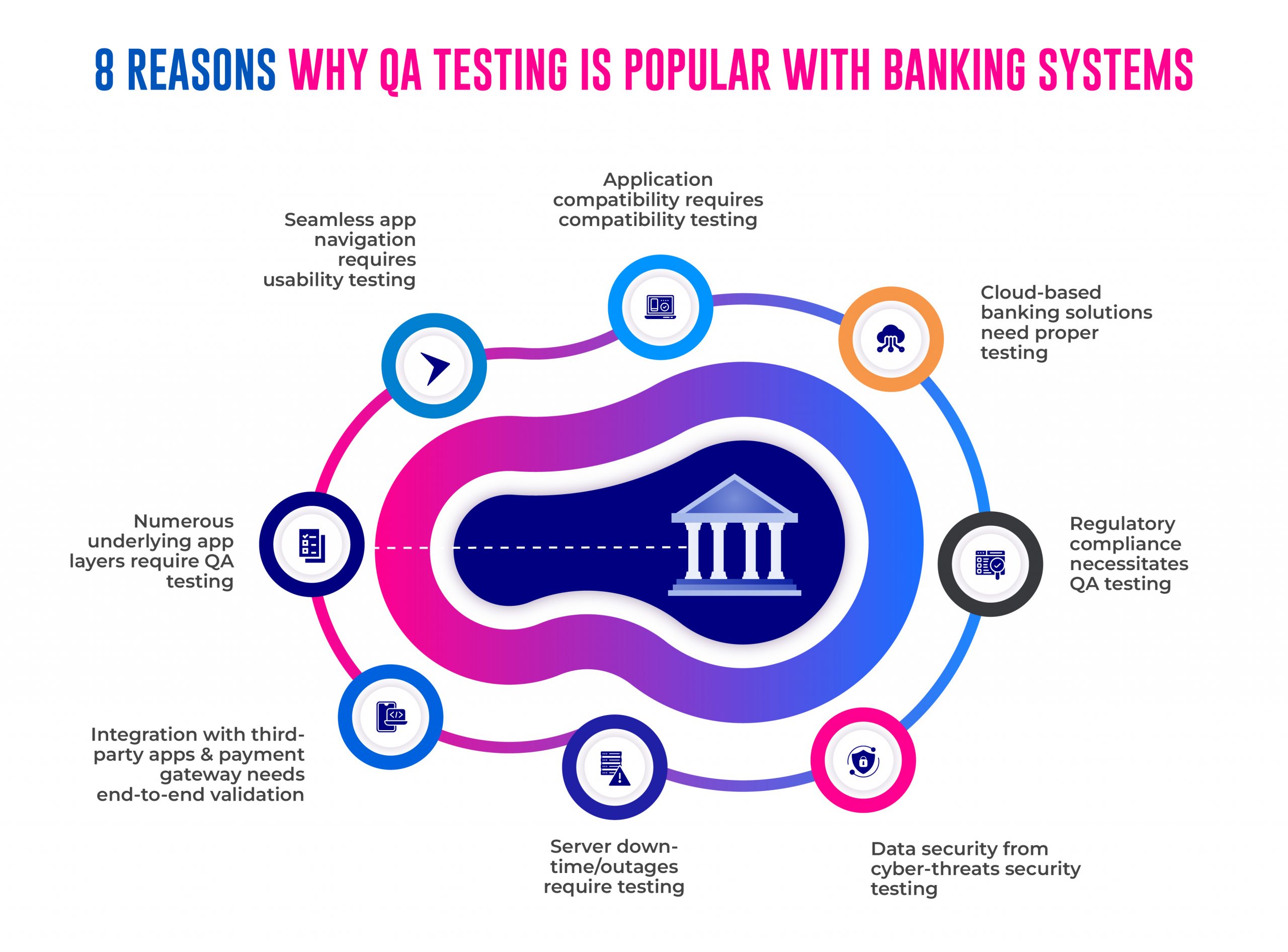 Why should Banking Systems Leverage QA
Financial institutions are rapidly digitizing as technology advances. To create a good client experience, the banking business relies on technology and various banking applications.
Banks handle critical client data and significant transactions 24/7, making QA strategy necessary. QA testing ensures that banking products are defect-free before release, enabling seamless transactions and an outstanding client experience. So, banking systems need QA testing for high-quality mobile apps.
Conclusion
Digital technologies are transforming industries and helping them prosper. Every industry relies on Quality Assurance to satisfy digitally equipped clients. Banking customers expect the best as digital acceptance of banking is accelerating. Banking digital transformation will boost data openness, eliminate intermediaries, and provide secure, fast access to financial and intellectual data, making banking activities cheaper and more effective.
About Maveric Systems
Starting in 2000, Maveric Systems is a niche, domain-led Banking Tech specialist partnering with global banks to solve business challenges through emerging technology. 3000+ tech experts use proven frameworks to empower our customers to navigate a rapidly changing environment, enabling sharper definitions of their goals and measures to achieve them.
Across retail, corporate & wealth management, Maveric Systems accelerates digital transformation through native banking domain expertise, a customer-intimacy-led delivery model, and a vibrant leadership supported by a culture of ownership.
With centers of excellence for Data, Digital, Core Banking, and Quality Engineering, Maveric Systems teams work in 15 countries with regional delivery capabilities in Bangalore, Chennai, Dubai, London, Poland, Riyadh, and Singapore.