As Banks race against time to bring for their customers innovative features as part of ongoing change process , similar urgency is also seen in product replacements and technology upgrades targeted towards better customer experience and to meet demanding regulatory requirements, all at short notice.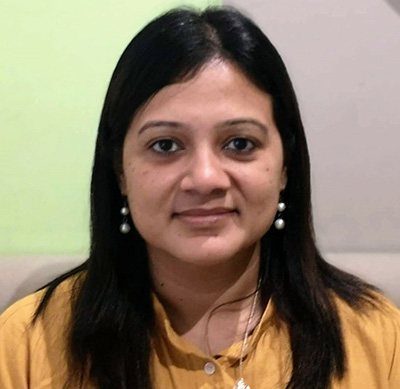 Between various types of testing – Unit Testing, System Integration Testing, and User acceptance testing – the keyword 'user' in UAT, makes all the difference. Additionally, the use of live data and real use cases makes UAT a critical part of the release cycle.
In light of the above, Banks rely heavily on UAT phase to ensure a successful Go-Live. UAT gains significance as it serves as the last gate in Bank's release certification. More so, the cost of fixing the defects after release is multifold as compared to fixing early. Added to it is managing complexity of customer's perception of Bank's IT systems.
Despite a process backed UAT, many Banks are confronted with functional coverage gaps – too less (or too much) testing invariably leads to a higher defect ratio or a longer time window to production.
Top Three UAT Challenges in Banking
The challenges confronting a typical UAT, merit a deep dive into the factors that negatively impact UAT effectiveness. These include top three challenges as listed in the below figure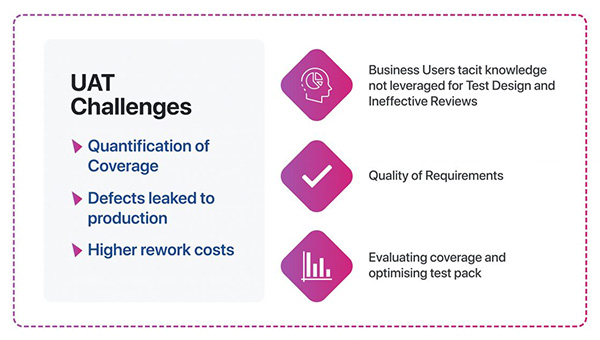 Figure 1
Tacit Knowledge held by Business Users are not Leveraged for Test Design
While UAT testers are skilled at converting available requirements into test designs, it is the business users with their exposure of real-world scenarios and expertise of their business environments, that aren't consulted or engaged enough. Be it ineffective reviews or reviews missed out due to paucity of time, this lack of coverage shows up as production defects later. Ineffective test design reviews, furthermore, results in rework, extension of execution timelines and a high percentage of invalid defects – all eating up valuable triage time.
Quality of Requirements
UAT defects could be due to inadequate definition or poor translation of the requirements as incorporated in the functional design. If not addressed as part of UAT test design, these gaps in requirements are likely to turn up as defects in production. Ultimately, it is the requirement faults, rather than coding errors, that accounts for significant leakages.
Quantifying coverage and optimising the test pack are both difficult tasks
Understood in its conventional form, the requirements traceability matrix makes it difficult for business users to assess risk coverage across all components of the tested applications, such as core systems, interfaces, alerts, reports, and satellite systems. Furthermore, traditional test design focuses on increasing coverage by packing in additional singular tests. This results in bloated test packs that are subsequently difficult to maintain.At Maveric, these slews of challenges triggered a 'what Next' thought. The innovation challenge we framed was: What might be a simple solution allowing Banks to accomplish reliability in their results and minimize go-live risks, thereby maximizing value of their UAT testing budgets?
Our efforts to combine deep domain knowledge with cutting-edge technology prowess finally resulted in OptiQ!
What is OptiQ?
OptiQ is a proprietary banking domain-led solution with inbuilt design algorithms that detects relationships between functional attributes and business rules to generate an optimal collection of test scenarios with complete business coverage.
Today UAT teams utilize OptiQ to reduce business risks by creating significant UAT scenarios based on business requirements, regulatory processes, new platform technologies, and business user requirements. It is a powerful proposition, that not only remediates the challenges discussed earlier, but also brings in significant benefits as discussed here:
Intuitive UI led Solution for Test Design
Right from documenting requirements to creating test scenarios for the customer journey and transaction lifecycle, OptiQ's intuitive UI is simple to use. Today business users report enhanced convenience in reviewing and navigating across various test design components.
Questionnaire-driven Model to strengthen Requirements by Business and Application Areas
A simple questionnaire captures user inputs accurately that were either originally unavailable or outdated or has gaps. This feature radically reduces errors in requirement defects and rework.
Functional Decomposition by Business Area
OptiQ's approach involves generating test scenarios by deconstructing the requirements and translating them into scenarios constructed hierarchically – into products, modules, transactions, and aligned customer journeys .In this new approach, business users are automatically involved in multi-stage reviews right from the initial stages of test design. This ensures early feedback benefits and avoids voluminous test case reviews. Additionally, OptiQ comes with automated controls to help UAT teams identify and correct gaps in coverage, thereby freeing up business users to review and focus on the quality of test design.
Layered Traceability for 100% Coverage
Moving away from traditional practices, OptiQ demonstrates the breadth of coverage for all UAT test components – including applications, alerts, reports, interfaces, and services. The design algorithm ensures stitching of end-to-end test scenarios across the components, thus providing 100% test coverage.
Optimization with Flexibility to improve Strength of Coverage
All tests are not created equal. OptiQ employs algorithms that provide varying degrees of coverage to maximise test coverage with the fewest possible tests, removing redundant, and low-value test cases. Moreover, OptiQ offers business users with options to increase coverage strength by methodically adding test cases. Bringing their tacit knowledge to bear, this feature leads to higher confidence levels.
Automated Test Case Generation
OptiQ provides automatic generation of optimized test scenarios with 100% coverage, thereby unleashing test efficiency gains. UAT teams can now focus on assuring the coverage rather than manually writing voluminous test cases.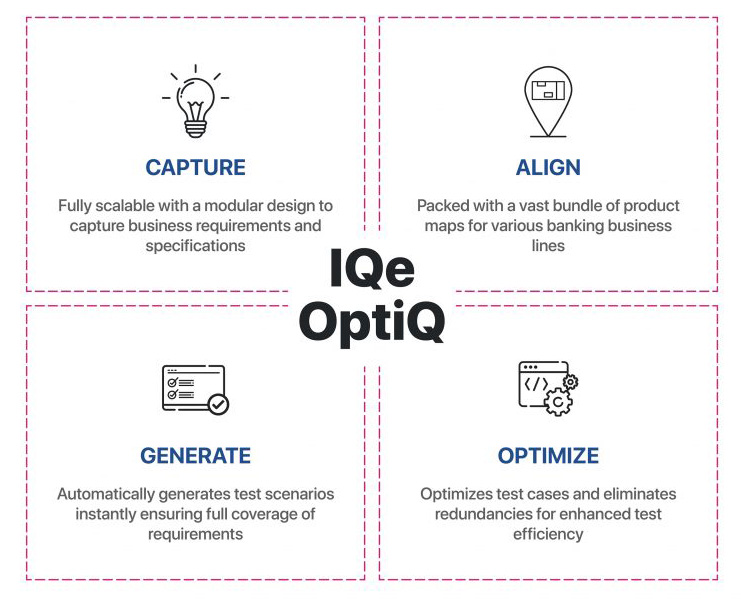 Figure 2
Finally, OptiQ comes with pre-loaded retail, corporate and credit cards test functions that help in accelerating the test design.
In summary, Banks undergoing transformations looking for favourable returns from their UAT investments, have to look beyond the conventional test design. It is precisely there, that model based, Algorithm-driven approaches to Test Design such as OptiQ, not only helps them drastically minimize the risks of go-live but also offers quantum value from their UAT efforts.
Originally published on MEA Finance