Millennials and Gen Z are today the largest generational demographics in the US, and other regions will soon follow suit. Most consumer-facing industries are elevating (and rewiring ) their systems to respond to the 'Digital-as-default' environment. Financial institutions must adopt innovative approaches to woo the younger clientele by developing nuanced offerings that match their habits, expectations, and preferences.  
Will banks have it easy with the Touchscreen Generation?
Bringing in technology will allow the banks to answer the question partly. However, the longer-term answer is not straightforward. Authentic digital experiences (and not features alone) will be a differentiator. Second, along with technology, banking has to become more "human ." How? Banks must realize that tomorrow's customers are reshaping the finance industry from gamification to meaningful content, accountability to service, and community engagement.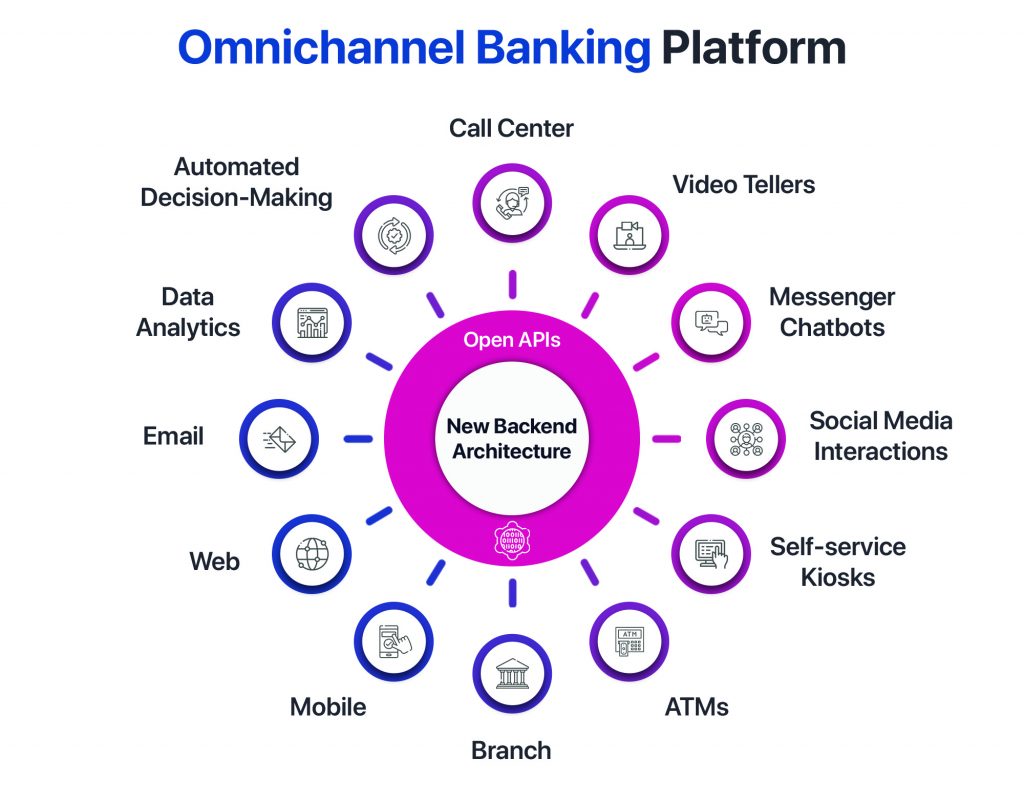 Given the changing business (and social) landscape, here is how the Omnichannel banking experiences are critical to a bank's growth potential. 
Leveraging the in-market forces
Omnichannel banking experiences are a natural outcome of today's market trends. The pandemic forced companies to turn agile, experiment more with AI and Robotic automation (and other cognitive capabilities), and tackle the distributed workplaces (accelerated because of the lockdowns). All these in-market forces compelled financial institutions to turn to the right-channeling – the primary reason behind omnichannel (meeting customers where they are and influencing them through the appropriate channel).
Increase in customer choice and flexibility by numbers 
First, a few statistics. Prominent studies point out that the pandemic has changed customer preferences – 76% now prefer online banking, 46% (up from 15%) are comfortable with video call advisory, and 59% expect on-demand, anywhere, anytime banking services. 50% of High-Net-Worth Individuals under the age of 40 will purely choose virtual advice (compared to 39% overall). The strongest endorsement for omnichannel banking experience comes from the fact reported by Digital banks in the UK: digital banks' net promoter score (NPS) is 3X that of traditional banks.
Keeping Pace with Digital Evolution
Omnichannel Banking Experiences work best when banks realize they are keeping pace with constant digital evolution. Collecting data from diverse sources (geolocation info, social media feeds, wearable tech, browsing, in-store data, etc.) and then using this to analyze and design a touchpoint strategy to maximize acquisition is the start point for the Omnichannel banking strategy. After that, Banks must transfer customer interactions from physical branches to digital channels by supplemental value. The third step is about delivering a personalized, proactive, and customer-centric experience based on consumer behavior.
The Omnichannel Banking Experience relies on its robust Implementation
By mapping CX journeys and measuring customer traffic, banks must create transparency around user behavior. Next, as optimal online CX journeys are set up (with functional and superior product/landing pages), the bank's Omnichannel mechanisms show successful outcomes – higher online purchases, easier decision making, and conversion. Banks (and companies) fail digitally when their customers' real needs and preferences are not captured in omnichannel journeys.
Culture changes needed for Omnichannel Banking
For banks, intent on designing and implementing best-in-class omnichannel services is easier said than done. In a mixed digital-savviness environment (Digital by Lifestyle Vs. by need Vs. choice Vs. offline population), managers and bank employees must embrace new standards of customer orientation. These new standards encompass the principles of agility, transparency, and flexibility. The mindset shift that is high on creative problem solving and continuous improvement is the next step. A meaningful performance measurement system should finally support the culture that best supports the omnichannel banking experience.
Conclusion
Driving a customer-first omnichannel experience in an age when new channels surface every other day is a complex task. To ensure that improvements address customer needs will happen when banks and Fintechs place the customer in the center of their ecosystem. With each passing day, customers will become more tech-savvy, so banks must rise to the challenge by elevating the quality standards of their systems and live agent interactions. This mindset will help them achieve the seamless omnichannel service that separates them from the competition.