Increased availability of digitally processable data, such as financial data, news, textual communication, and customer data across business domains, means that companies must use every last resource to create meaningful and actionable business insights.
After all, by itself, pure statistical data analysis hardly yields sufficient insight.
Data Challenges and today's Need for Data Visualization Tools
Today, most data – structures, formats, and types- is highly complicated and multi-variable. Consider customer data with crucial demographic information and financial transactions as an illustration of multi-dimensional data.
Combined with the complexity is the ever-increasing pace and complexity of data that is compelling FIs to modify their standard BI tools and reporting protocols. Visual BI has been increasing in popularity to simplify and synthesize complex data for more straightforward presentation across line management and functional reporting leaders.
To harness the benefits of Data Visualization in its entirety, Banks and FIs partner with deep-domain banking tech experts such as Maveric Data to tailor their data visualization programs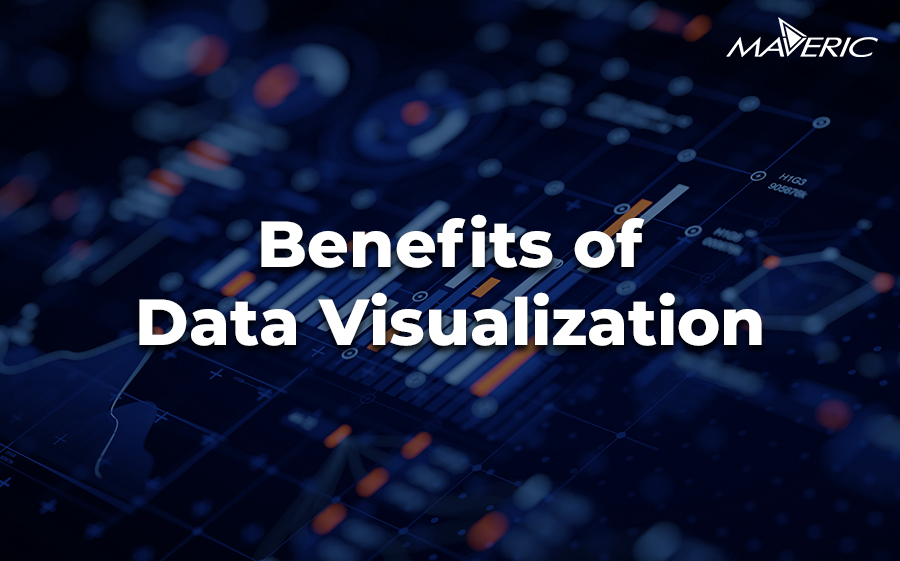 The benefits of Data Visualization  
Given the slew of new technologies and methodologies, enterprises must create a data visualization focussed information strategy before embracing more visual reporting processes. The gains of progressing on a centralized data visualization strategy can be felt organization-wide. They are listed below:
Empower front and middle-level business managers with accessible visual insights
Increase organizational knowledge of statistical processes and analyses.
Bring precision to critical decision-making for growth and expansion matters.
Automate and optimize data management efforts across the Enterprise.
Boost the organization's self-service capabilities.
Free up precious management mind space by practicing management by exception
Bring rigor to performance management by focussing on role-specific KPIs
Creating a Data Visualization Approach
Evaluate: Begin by examining company processes and interviewing stakeholders to understand roles, objectives, and performance metrics – in short, the enterprise narrative. Once use cases and overall technical requirements are in place, the creation stage begins.
Create: During this phase, quick visualization approaches are created to check if appropriate visual representations convey the current reality.
Design: Next, the user-interface design is planned, and user-experience needs are mapped to it so that effective visualization can be designed.
Execute: Finally, the focus shifts to interpretation, refinement, enhancement, and assignment of user access and consistency of reporting.
Conclusion
As the utilization of data lakes increases, it will impact the speed with which FIs anticipate their client needs and enhance precise targeting to create unprecedented value. Banks today utilize data visualization sciences to unearth profit pockets, identify growth prospects, streamline expenses, investigate business insights, enhance productivity and sales, and make more informed human resource decisions.
The critical question for tomorrow is how to leverage data efficiently and confidently without an unreasonable degree of manual intervention.
About Maveric-Systems
Starting in 2000, Maveric Systems is a niche, domain-led Banking Tech specialist partnering with global banks to solve business challenges through emerging technology. 3000+ tech experts use proven frameworks to empower our customers to navigate a rapidly changing environment, enabling sharper definitions of their goals and measures to achieve them.
Across retail, corporate & wealth management, Maveric accelerates digital transformation through native banking domain expertise, a customer-intimacy-led delivery model, and a vibrant leadership supported by a culture of ownership.
With centers of excellence for Data, Digital, Core Banking, and Quality Engineering, Maveric teams work in 15 countries with regional delivery capabilities in Bangalore, Chennai, Dubai, London, Poland, Riyadh, and Singapore.