CHENNAI: In the late 1990s, when NIIT and Infosys were the poster boys of the technology businesses, four friends in Chennai decided to quit their cushy jobs to take the entrepreneurial plunge. Having consulted for the financial services world for more than a decade, they sensed a massive technology disruption for banks, and launched Maveric Systems, a tech firm that helps banks navigate their digital transformation.
"Anyone and everyone was fascinated by the 'web' then, and investors had high expectations of such businesses. Unlike today's breakneck urgency in achieving milestones, we focused on taking it slow and building a consistent and profitable enterprise," says Ranga Reddy, co-founder and CEO, Maveric Systems. Yes, they were wary of a bubble burst, but the four mavericks were determined to make a difference.
A sound strategy, prudent business sense, and lots of confidence kept them going, says Reddy. National and international success followed, despite their DNA of staying small and avoiding flashy excesses. Maveric works with at least two or more of the top five banks across geographies (Middle East, APAC and India markets). It offers services and solutions including data tech, digital transformation, core transformation, regulatory compliance, and other digital operational services. It dabbles in what is called 'change the bank' initiatives – programmes that involve building digital systems from scratch and overhauling operations with technology.
Take a large UK bank (one of Maveric's longstanding clients), for instance. Hit by myriad business woes, the bank's leadership tapped digitalization and streamlining of customer onboarding processes as the solution to the problems, and reached out to Maveric in early March 2020. With the lockdown coming from nowhere within weeks of the project commencement, Reddy and his team were on the last flight out and faced the prospect of executing a major digital transformation project fully remote. "Our team's resilience and attitude during the project strengthened our client relationship," says Reddy. "Small is beautiful. We would rather take the time to understand the client end-to-end and build a relationship with them than chase growth," he adds.
With this mantra, today 18 customers contribute almost 85% of Maveric's revenue, with 13 of the clients working with them for more than 10 years. Despite the pandemic, the company grew at over 20% CAGR in the last three years and is set to double this in the next three years. "Phase one of our journey was about developing and commercializing our offering. The second phase was taking this single service to multiple regions, and phase three was adding multiple services to the customers," says Reddy.
The fourth phase is that of scale and deep localization. Maveric is now looking to expand in the US and UK in its 23rd year, and is considering an IPO after almost 20 years of its own revenues fuelling the business. "We would like to enter the US market by acquiring a local player by FY24-25, and thus preparing for capital raise to fund the acquisition," says Reddy. Depending on market conditions, the company would either go public or raise funds from PEs, he adds.
Accordingly, investment in talent is at an all-time high and the focus is on second-line development, the CEO says. Maveric is running a new talent development programme called ThinkNXt to identify and groom in-house specialised experts across its Chennai, Bengaluru and Pune centres.
As the CEO, Reddy is focused on charting Maveric 4. 0. "What has worked for us, and continues to, is that we promoters are all still deeply committed to why we founded the company, to do whatever it takes to continue growing the organization," he says.
About the Author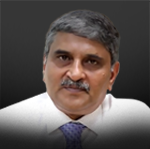 As CEO and Co-founder, Ranga, strategizes and spearheads Maveric's pursuit to become one of the world's top three Bank-Tech solutions specialists transforming digital ecosystems of retail banking, corporate banking, and wealth management. For more than twenty years, Ranga's laser focus has created an organization that learns, experiments and innovates through its passionate people and 'free radical' practices. His customer success obsession is evident in Maveric's industry-renowned solutions across pressing challenges in CX, Digital Ops, Regulatory compliance, and connected core domains.
The article was Originally published in Times Of India