The two main challenges that IT companies have to contend with – continuously upgrading new technologies and creating the best customer experience from their investments. The mandate for FI's is to produce stable, high-quality apps that provide an authentic and seamless CX as users interact with the digital world. Here, Quality Engineering (QE) helps banks and companies deal with recalcitrant problems. These are more than the usual QA snags that come up, but something that impacts the entire customer value chain.
Another cause of deep concern is the increasing recurrence of cybercrimes and cyberattacks. Users must protect their assets more than ever, which requires enhanced security and compliance testing. Even so, it is often a prudent investment for FIs to build this rigor into their mobile app testing and other digital application processes.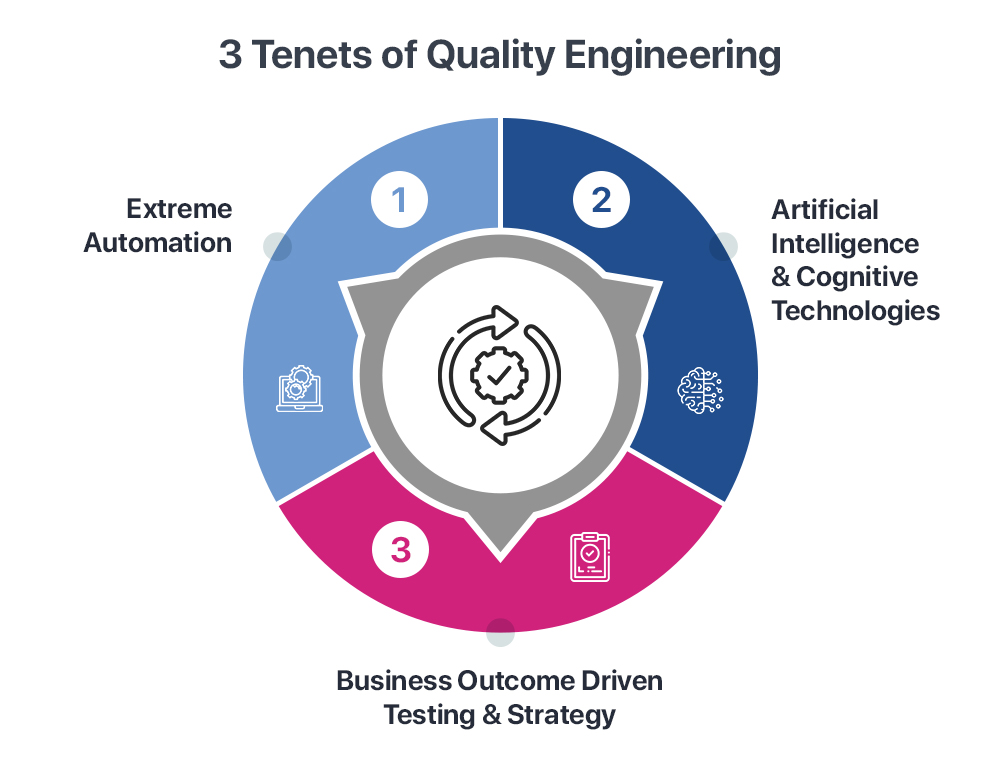 Three reasons how QE influences the Digital Transformation Processes
Improve processes by controlling inputs
As FIs focus on high-quality standards for their processes, they bring attention in the form of QE governance. Over time, research shows that this cuts down the defect rate and reduces the efforts and money needed to carry out the testing. So, for digital transformation interventions to succeed, strict governance wards off deviations and also course corrects for any past missteps.
Data-Driven insights that inform quality improvements
As QE informs the interrelationships of metrics, processes, and end quality across diverse project types, a bank's IT department can better its operations and products if they follow a robust QE approach. After all, with the wealth of data generated in testing and the superior data analytics tools now available, the logical next step is to draw out the insights – that elevate the product performance, accelerate Go To Market plans, and enhance the customer experience across multiple channels. Unsurprisingly, today, QE methods are used to practice objective, and repeatable measurements, across the many phases of QA, bug fixing, and cost management.
Embracing the adoption of disruptive technologies
Integrating QE into digital transformation initiatives is the crucial lynchpin that helps banks and FIs gain confidence to embrace the next-generation technologies – AI, Big Data Analytics, IoT, etc. As a QE culture proliferates, internal processes can be measured, managed, and integrated to reveal financial and time-based benefits. Additionally, this approach allows for new quality metrics and assessment models that help assess all factors (and variables) that affect digital transformation initiatives. Employees get their learning done in emerging tech, and the organization is better positioned to trace the potential improvement areas and education required.
Conclusion
As digital technologies keep getting better, the wave of adoption will accelerate. All industries, especially IT, depend on Quality Engineering (QE) and testing to ensure that the product quality and user experience meet the stringent expectations of digitally savvy customers. QE and testing used to be tedious and time-consuming. Still, testing is built into the software development process with agile project management approaches and deploying software in a DevOps environment.