In many large commercial banks, the corporate banking section is a crucial link between the commercial banking group and the capital markets/investment banking teams. Corporate banking departments offer major firms financial services such as cash management, payment processing, credit products, and hedging techniques. The majority of these businesses are traded publicly.
What does the present look like for Corporate Banking?
Corporate Banking is fast getting a makeover that attracts the best-in-breed practices. Leading FIs today focus on how the corporate, commercial, and SME banks are moving away from the challenges of 2020 to growth in 2030. The overhaul is being felt in areas ranging from widespread self-financing to popular subscription models and ecosystems to impactful sustainability leadership.
Insights that are driving the landscape shifts in the world of Corporate Banking
Tech behemoths and massive platforms are expanding their banking services as more large businesses self-finance their operations and extend loans to suppliers.
Corporate Banks are evolving to become clients' go-to advisors, actively using data to influence clients' future business plans.
In the era of ecosystems, corporate banks are putting together integrated networks of dependable suppliers to promote client growth.
More customers are asking for sophisticated corporate treasury, legal, risk management, and other services as banks broaden their offerings beyond banking.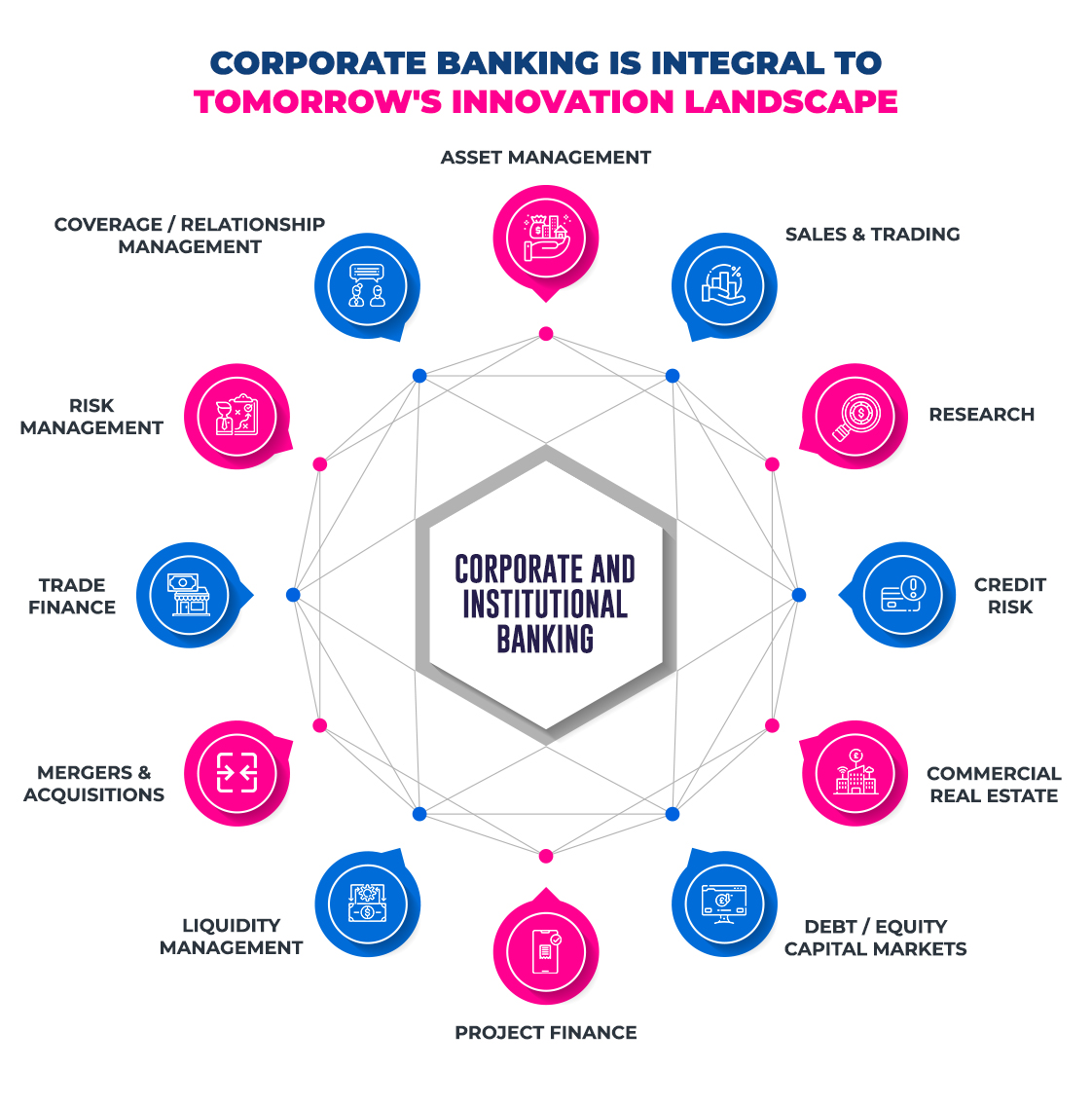 Technology as a significant transformation agent for corporate banking
A prominent NTT Data study into the global future of Corporate banking highlights four key technology impacts. It reinforces the value seasoned banking technology organizations like Maveric systems have been offering for over a decade.
The proportion of corporate clients who prefer using APIs for communication as opposed to those who prefer email or face-to-face interactions is three times more.
85% of banks are attempting to streamline their online portals. The principal justifications focus on client-centricity and customer experience: 53% and 57%, respectively.
57% of banks are enhancing their KYC and AML processing with AI. Banks are making investments worldwide to streamline and digitize client-onboarding procedures.
39% of banks choose to purchase a third-party solution, while 61% decide to build their internal cash forecasting The region most likely to buy an off-the-shelf solution is LATAM.
Conclusion
Banks that provide services to corporations, businesses, and SMEs have made incremental transformation investments over the past five years that have only partially addressed changes in client expectations for better service options and more robust digital experiences. Other initiatives are centered on streamlining compliance and addressing specific operational difficulties. Today, there is a more considerable argument than ever for an industry-wide overhaul. Clients now want more value-adding services and more profound experiences than traditional products that may be irrelevant now. The numerous disruptions foreshadow future events and demonstrate the need for a bold vision from leaders of tomorrow. This will entail establishing a mission, creating offerings that support it, and relentlessly putting the customer's needs first by utilizing data and analytics to offer simple-to-use digital goods and services.
About Maveric
Starting in 2000, Maveric Systems is a niche, domain-led Banking Tech specialist partnering with global banks to solve business challenges through emerging technology. 3000+ tech experts use proven frameworks to empower our customers to navigate a rapidly changing environment, enabling sharper definitions of their goals and measures to achieve them.
Across retail, corporate & wealth management, Maveric accelerates digital transformation through native banking domain expertise, a customer-intimacy-led delivery model, and a vibrant leadership supported by a culture of ownership.
With centers of excellence for Data, Digital, Core Banking, and Quality Engineering, Maveric teams work in 15 countries with regional delivery capabilities in Bangalore, Chennai, Dubai, London, Poland, Riyadh, and Singapore.