Digital banking automates banking. Digital banking lets users access banking products and services online. Digital banking digitizes all banking processes and replaces the bank's physical presence with an everlasting online presence, eliminating the need for customers to visit a branch.
Due to its unique characteristics and accessibility, digital banking is growing faster than online banking. Consumers prefer digital banking due to its extensive range of services. According to the Ipsos-Forbes Adviser US Weekly Consumer Confidence Survey, 76% of Americans have used their bank's mobile app for account balance checks and cheque deposits.
Working with banking domain experts like Maveric for industry-first digital banking solutions is helping FIs consolidate their market positions and leverage their innovation pipeline.
The Upside of Digital Banking
Digital banking attempts to simplify bank customers' lives. The benefits of using more advanced technology far outweigh the expenditures. The Digital banking benefits include:
Digital banking allows people waiting in queues, busy working-class professionals, and regular customers who want to avoid visiting the bank's branch to conduct a single task and want to do their banking from home.
Digital banking offers 24-hour access to banking functions, adding to its convenience.
Traditional banking relied too much on paper. Digital banking has eliminated paper. Users can check records anytime by logging in.
Digital banking lets users automate power, gas, phone, and credit card payments. Customers no longer have to recall due dates. Customers can receive payment reminders and overdue notices.
With well-integrated payment mechanisms, internet buying is easy. Internet banking boosted online payments.
Remote digital banking is a step towards comprehensive growth. Rural people can benefit from digital banking with affordable smartphones and internet connections.
Automatic bank transfers lessen counterfeit cash danger.
Digital banking lets users report and block lost credit cards with a click. This enhances bank customers' privacy and security.
Digital banking promotes a cashless society and helps the government trace black money. Digital banking should reduce currency minting over time.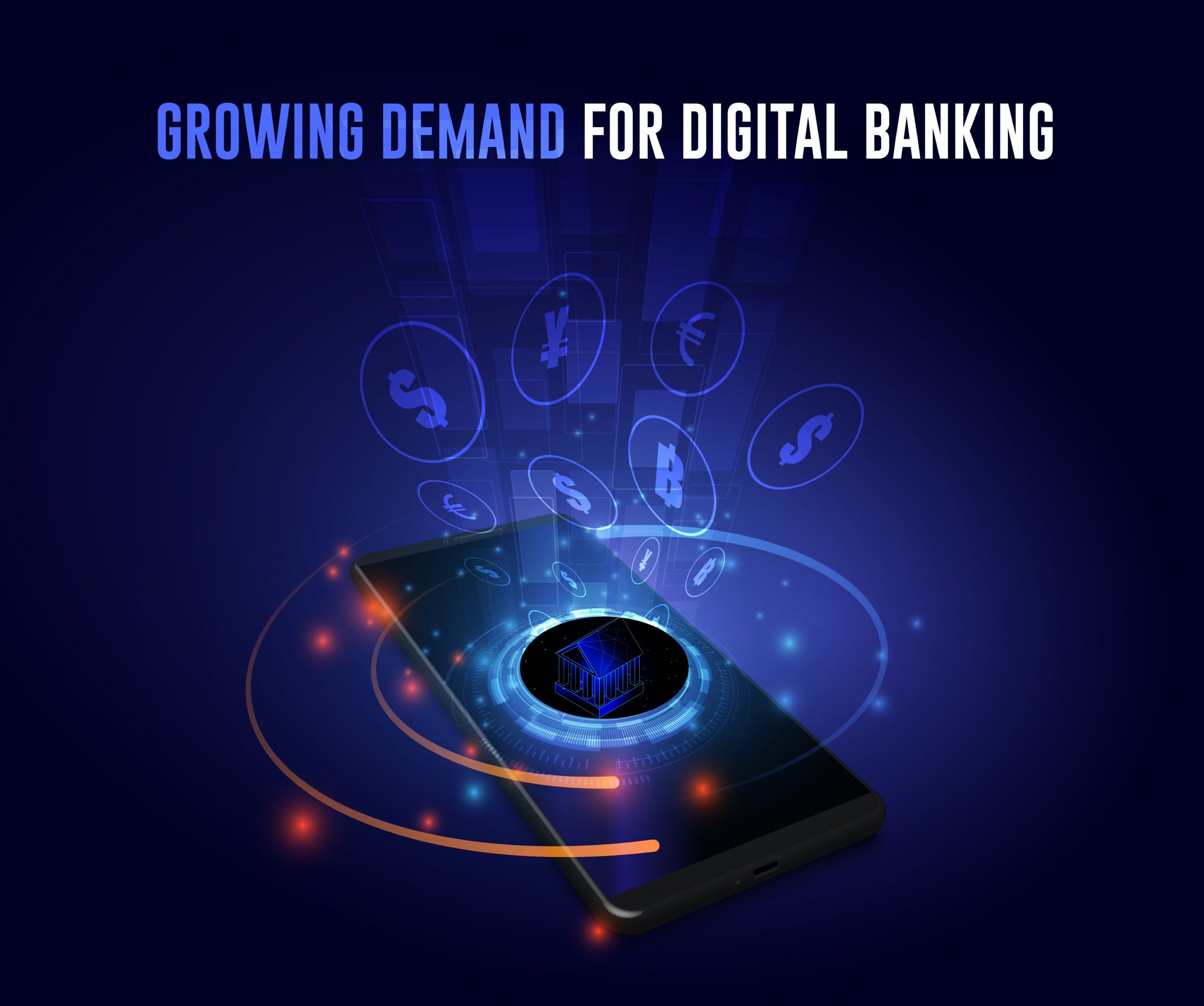 Digital Banking Vs. Online Banking
Digital Banking delivers all the physical banking services to the customer's digital device. Cashless digital activities include Transferring money, Balance checks, Payments, and Account-checked investments. Digital banking offers fast, accurate, and smooth banking services. It provides multiple interface services using various technologies.
On the other hand, internet banking allows customers to access their accounts and make critical financial transactions online. Individuals can execute essential functions without visiting the bank. Digital banking's subset uses different technology to support additional devices and interfaces.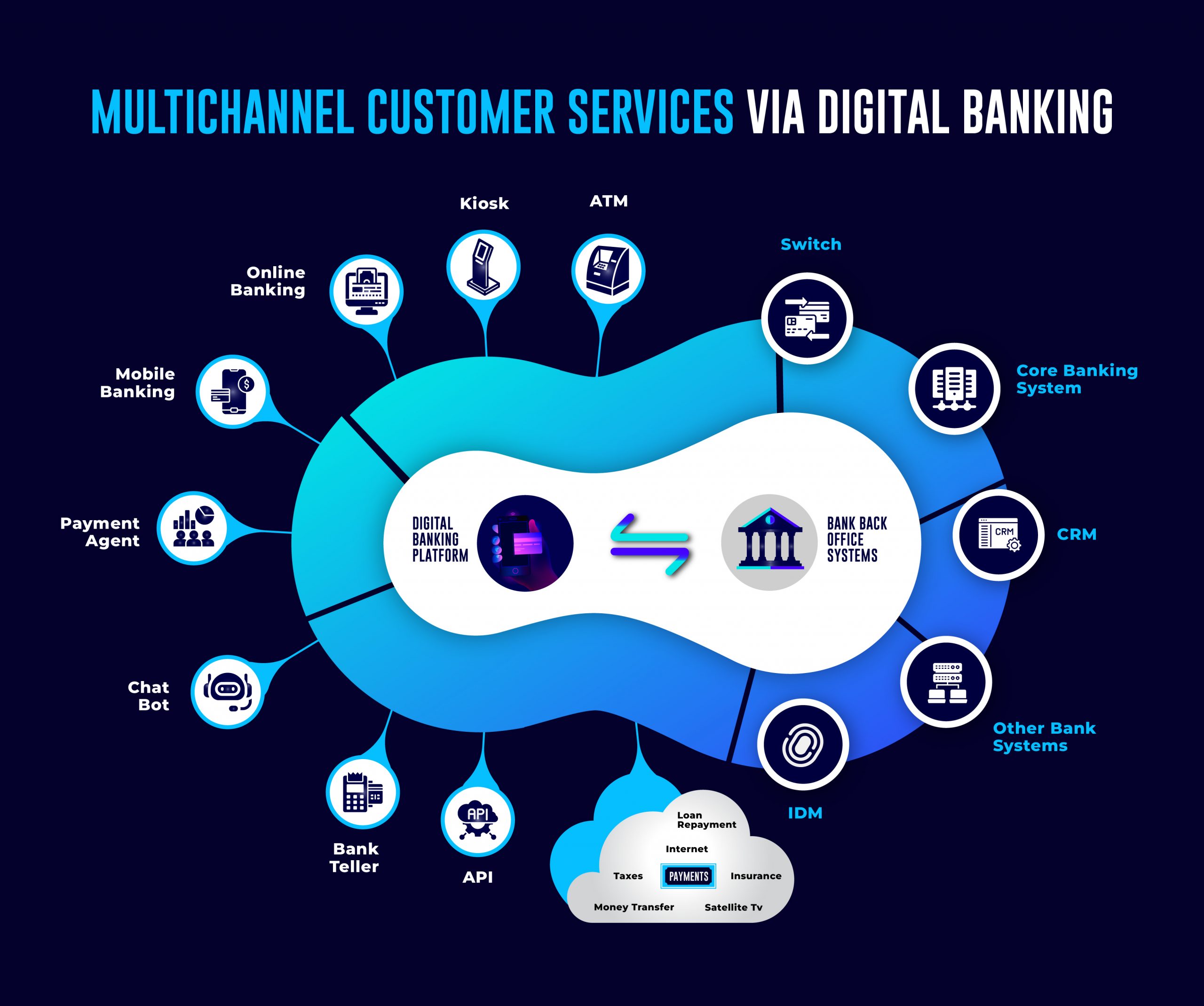 Types of Digital Banks
Neobanks: Neobanks are digital banks without physical locations. They approach customers via websites and phone apps. They offer specialist goods in limited markets and prioritize ease and accessibility over traditional banks. Neobanks, founded by fintech companies, may partner with conventional banks to deliver financial products or consumer assurance. Novel technologies improve the interface and banking experience, focusing on clients and experience.
Challenger Banks: Challenger banks operate like Neobanks but with a twist. Notwithstanding their Neobank-like avatar, they are real. Challenger banks, unlike Neobanks, have a banking license and can offer more services.
New Banks: Licensed Neobanks provide comprehensive banking services. For instance, Monzo, Revolut, and Starling Bank. These are online only.
Types of Digital Banking Payments
Mobile banking apps:
Internet payments: Transfers, deposits, echecks, and wires.
Mobile wallets (e-wallets): Apple Pay, Google Pay, and others are popular.
Contactless payments: They use debit and credit cards, digital wallets, and NFC technology.
Cryptocurrencies use distributed ledger technology to facilitate safe digital transactions.
Conclusion
Digital Banking digitizes and automates all banking processes online. Digital Banking lets users deposit money, check accounts, handle loans, pay payments, etc. Digital banking covers customer actions and back-end operations, unlike online banking. Digital banks' ease, comfort, and simplicity are attracting more consumers. As digital banks attract more customers through customer-centricity and tailored services, they also contribute to the cashless economy in force due to government and industry regulatory restrictions.
About Maveric Systems
Starting in 2000, Maveric Systems is a niche, domain-led Banking Tech specialist partnering with global banks to solve business challenges through emerging technology. 3000+ tech experts use proven frameworks to empower our customers to navigate a rapidly changing environment, enabling sharper definitions of their goals and measures to achieve them.
Across retail, corporate & wealth management, Maveric Systems accelerates digital transformation through native banking domain expertise, a customer-intimacy-led delivery model, and a vibrant leadership supported by a culture of ownership.
With centers of excellence for Data, Digital, Core Banking, and Quality Engineering, Maveric Systems teams work in 15 countries with regional delivery capabilities in Bangalore, Chennai, Dubai, London, Poland, Riyadh, and Singapore.