Today technology is continuously tested throughout the course of the development process. From a collection of system development techniques, products and services are tailored to the consumer's needs. It becomes crucial to understand that quality engineering is a discipline to unite developers and testers. The underlying cultural mindsets must be in place for this to happen over time and adopt quality engineering as a solid organizational practice. Once the teams align on objectives, scope, and project boundaries, the approach to high-grade engineering services permeates cross-sectional and inter-departmental from the top down. In addition, a concrete change management framework is required to guarantee that the cultural change is smooth and holds good across the entire organization.
Gaining the competitive edge through seasoned High-Grade Engineering Services Implementation
Working with seasoned system integrator's such as Maveric Systems, leading FIs to realize how modern-day business imperatives need comprehensive quality engineering solutions. Tailored for custom needs, the technology partners' contribution improves release cycles, shortens QA deadlines, and brings a competitive edge to the client company through AI, DevOps, Automation, and other technological breakthroughs.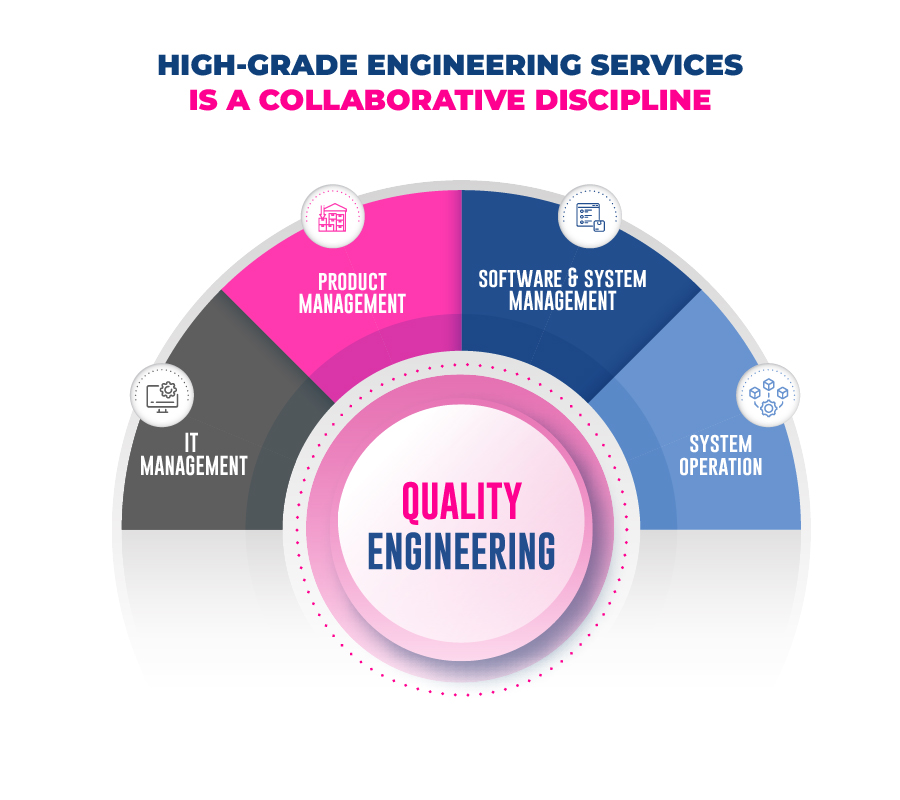 How are High-Grade Engineering Services the new differentiator for Banking Software Testing?
To support the next-gen banking software and solutions, leading FIs must rely on the best thought leadership to redesign the traditional QA constructs and create blueprints for emerging technologies. The consulting partner aims to bring an engineering mindset to QE on transitioning from QA to QE. The range of high-grade engineering services includes platforms, methodology, and mindset. The journey effectively touches upon multiple practice areas, such as service virtualization, performance engineering, and test data management.
Overall benefits of adopting High-Grade Engineering Services
Drive higher quality standards and quickly go to market.
End to End capability modernization from conceptualization to execution.
Seamless Omnichannel experiences
New revenue streams from performance testing, network testing, and prediction models based on AI & ML.
Boosting output productivity and cost reductions with DevOps.
Conclusion
In the omnichannel world we now inhabit, businesses strive to transform digitally to create high-quality, long-lasting products. The conventional quality assurance paradigm is currently insufficient to accomplish this. To identify and analyze problems in real time, it is necessary to switch from a reactive quality assurance approach to a productive Quality Engineering (QE) approach. Businesses rapidly embrace digital transformation in today's digital ecosystem to deliver customer-centric and quality-driven solutions. This suggests that businesses require best-in-class user experiences, quicker release cycle times, and cheaper costs. This has new implications for product testing and quality assurance.
About Maveric Systems
Starting in 2000, Maveric Systems is a niche, domain-led Banking Tech specialist partnering with global banks to solve business challenges through emerging technology. 3000+ tech experts use proven frameworks to empower our customers to navigate a rapidly changing environment, enabling sharper definitions of their goals and measures to achieve them.
Across retail, corporate & wealth management, Maveric Systems accelerates digital transformation through native banking domain expertise, a customer-intimacy-led delivery model, and a vibrant leadership supported by a culture of ownership.
With centers of excellence for Data, Digital, Core Banking, and Quality Engineering, Maveric Systems teams work in 15 countries with regional delivery capabilities in Bangalore, Chennai, Dubai, London, Poland, Riyadh, and Singapore.