Overview
Maveric has craftly pieced together a holistic platform to rapidly accelerate your continuous quality pipeline through a combination of domain-driven and cognitive solutions.
Unleash the power of AI to reinvent continuous quality pipeline
@ccel ensures acceleration with zero compromise on quality with a domain-led, AI-enabled fabric across all of its solutions that seek to tackle key speed breakers in the CI-CQ-CD pipeline through contextual interventions across the CI-CQ-CD pipeline.
@ccel balances redundancies of the past through solutions on one hand, that focus on optimization of current quality processes and on the other, using deep predictive analysis enabled through AI to derive market and business insights that can help engineer the future state of quality.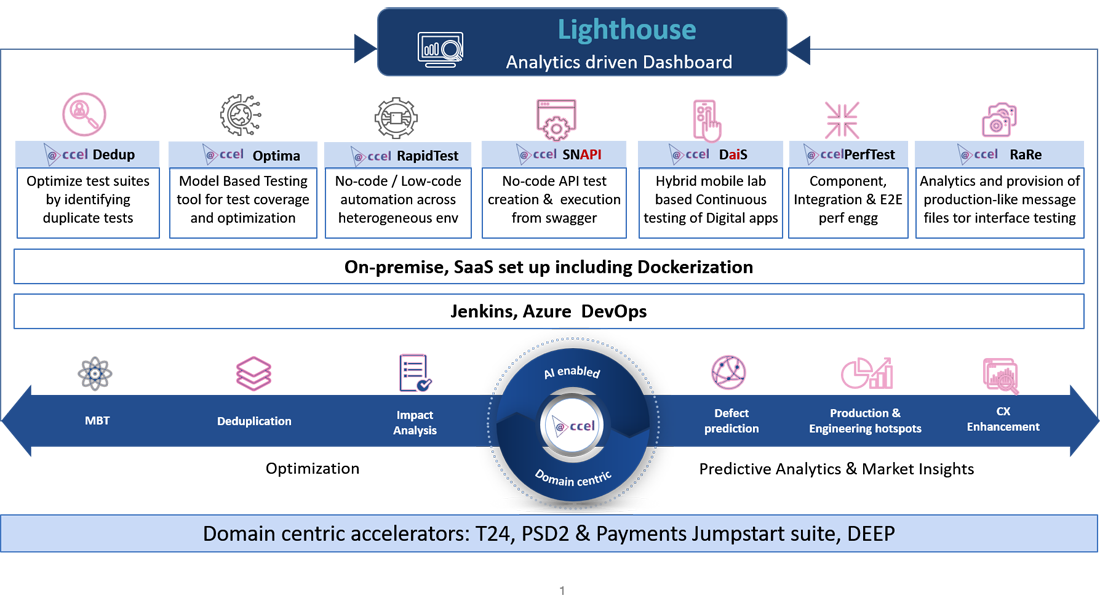 Analytics powered Insights through Test logs, defect logs, incidents
Seizes defects Early through predictive failure hotspot identificationt
Performs comprehensive levels of Test Optimization
Reduces overall costs and achieves higher customer satisfaction

Analytics powered Insights through Test logs, defect logs, incidents
Seizes defects Early through predictive failure hotspot identification
Performs comprehensive levels of Test Optimization
Reduces overall costs and achieves higher customer satisfaction
Unlock exceptional outcomes

@ccel Optima
Reduce test redundancies up to 40% and Optimization through @ccel Optima

@ccel RapidTest and SNAPI
Increase automation coverage to 95+% through @ccel RapidTest and SNAPI

@ccel Lighthouse
Identify high risk areas across complex applications
Empower decision making and improve data model accuracy up to 40%

DEEP
Enhance Customer Experience through social media analytics and engineering improvements using DEEP (Digital Experience Enhancement Platform

@ccel Mobile
Platform compatible mobile test automation solution for continuous quality solution