Test Data Management Solutions
Realizing that data is the biggest asset of their enterprise, organisations worldwide are embarking on creating a data strategy to leverage existing data and make informed decisions with accuracy, timeliness and completeness. Managing data for ease of access and central integrity is one of the cornerstones of data strategy. Data management plays a key role in setting the right roadmap for an organisation to handle its ever-growing data in a seamless manner.
Maveric's test data management services help in identifying the right set of data and enable rapid deployment thereby ensuring the availability of validated and verified data for business users. We provide an end-to-end framework for creating comprehensive test data with importance on data being optimised, secure and automated.
Our services are delivered using a comprehensive, 5-phase approach. Key steps are outlined below:
Discovery: Data requirements are gathered and all the dependencies are mapped across the sub-systems.
Extraction: Custom scripts are developed for creating multiple data sets, metadata is obtained and mapped so that model changes can be accommodated at a later stage.
Masking: Sensitive data is identified for business and compliance requirement, business rules are created to apply as data masking standards and all business data gets encapsulated for anonymity.
Automation: Comparison checks are made to identify anomalies and inconsistencies and automated processes flag the inconsistencies unassisted.
Refresh: Baseline definition is carried out for updating the test data and refresh process gets established to ensure consistent test environments are maintained.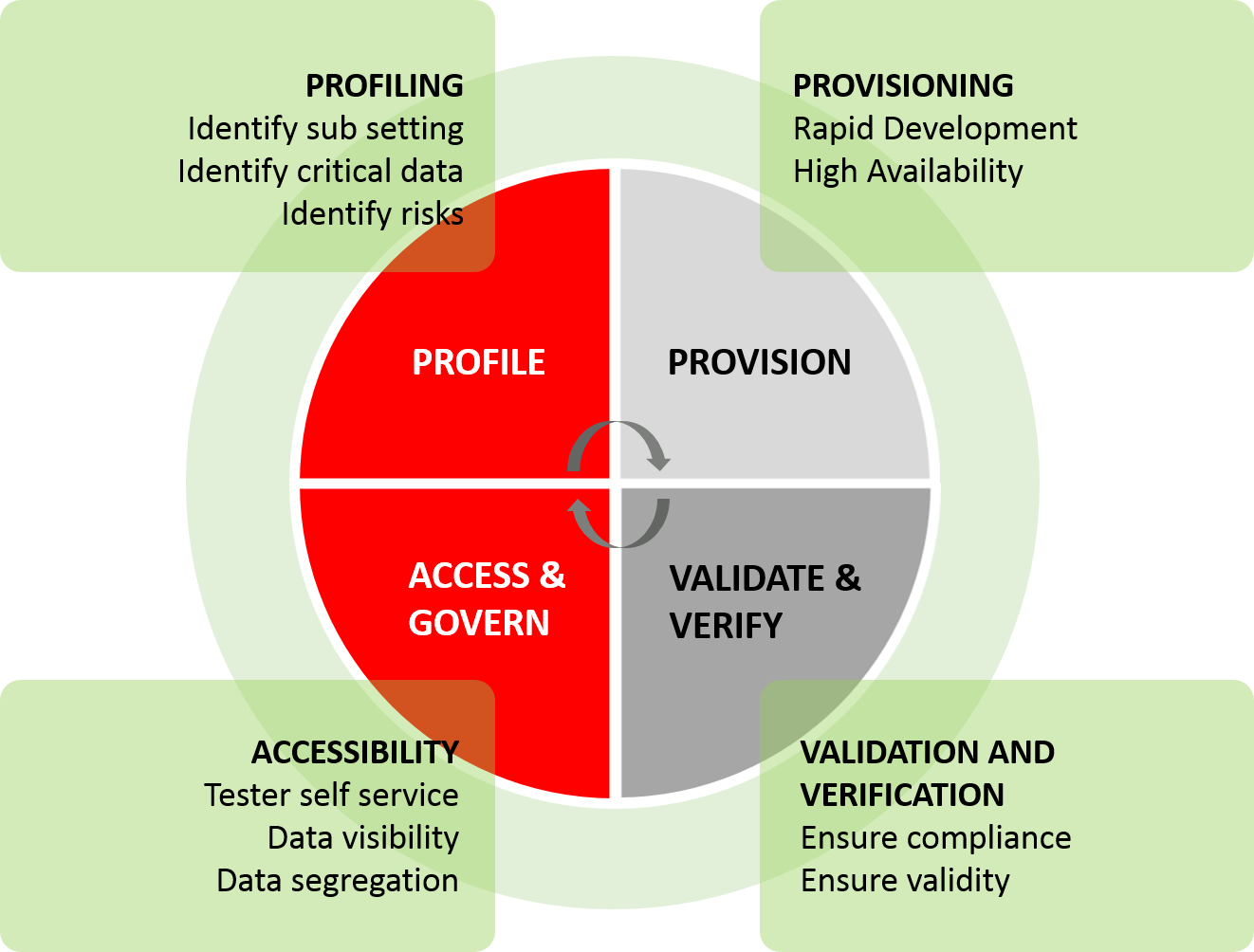 Critical benefits of each phase:
Profiling:
Helps in identifying critical and non-critical data
Reduces data storage in non-production
Reduces infrastructure and processing costs
Provisioning:
Rapid deployment with automated operations
Immediate environment readiness
Validation & Verification:
Compliance Assurance
Penalty avoidance
Offshoreability
Accessibility:
User self service
Increased user productivity
Sharing of environment and resources