AML Testing And Assurance Services
Anti-Money Laundering (AML) ranks as one of the top priorities of banks worldwide. Regulatory agencies across the globe have been increasingly monitoring financial institutions to implement and continuously enhance their systems and processes to be AML compliant. However, in spite of implementing robust regulatory and compliance systems, financial institutions constantly face challenges, some of which include:
Pace and impact of regulatory changes affecting current operations.
Maintaining global consistency in terms of AML rules and scenarios.
Increased false positives due to advent of new financial message formats resulting in messages lacking required information.
Lack of expertise in data analysis and rules/scenarios leads building to spot suspicious activities.
Poor data integrity and data quality issues during the integration of transaction monitoring systems across the institution.
Improperly identified requirements on system security, system capacity, country specific laws, data privacy laws, availability of scenarios based on various bank products etc.
Our AML Testing Service Offering
In this ever-changing regulatory landscape, financial institutions need a robust framework for implementing, upgrading and validating their AML processes and systems. Through a comprehensive 4-stage assurance process, we help you assure the quality of your AML landscape across key areas like KYC, risk profiling, behaviour profiling, transaction monitoring, and payment filtering.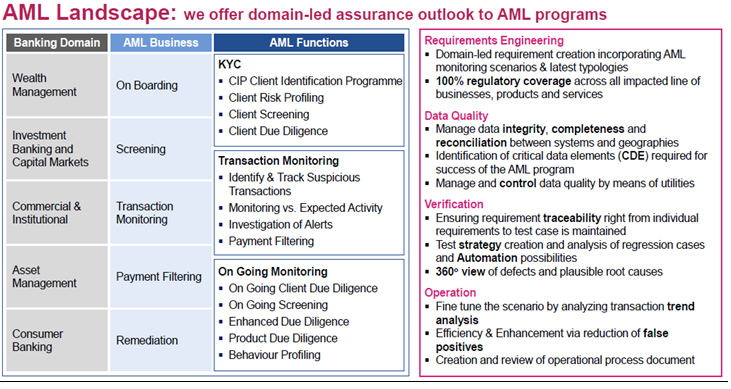 Our AML Assurance offering adopts Risk-Based Testing Approach in validating your AML applications.
We help you:
Identify AML risks being targeted by enhancements to the AML systems.
Design business scenarios to ensure optimum coverage.
Evaluate and review the robustness of the rules and scenarios in spotting or alerting the activities that can result in identifying risks, and
Perform risk-based execution.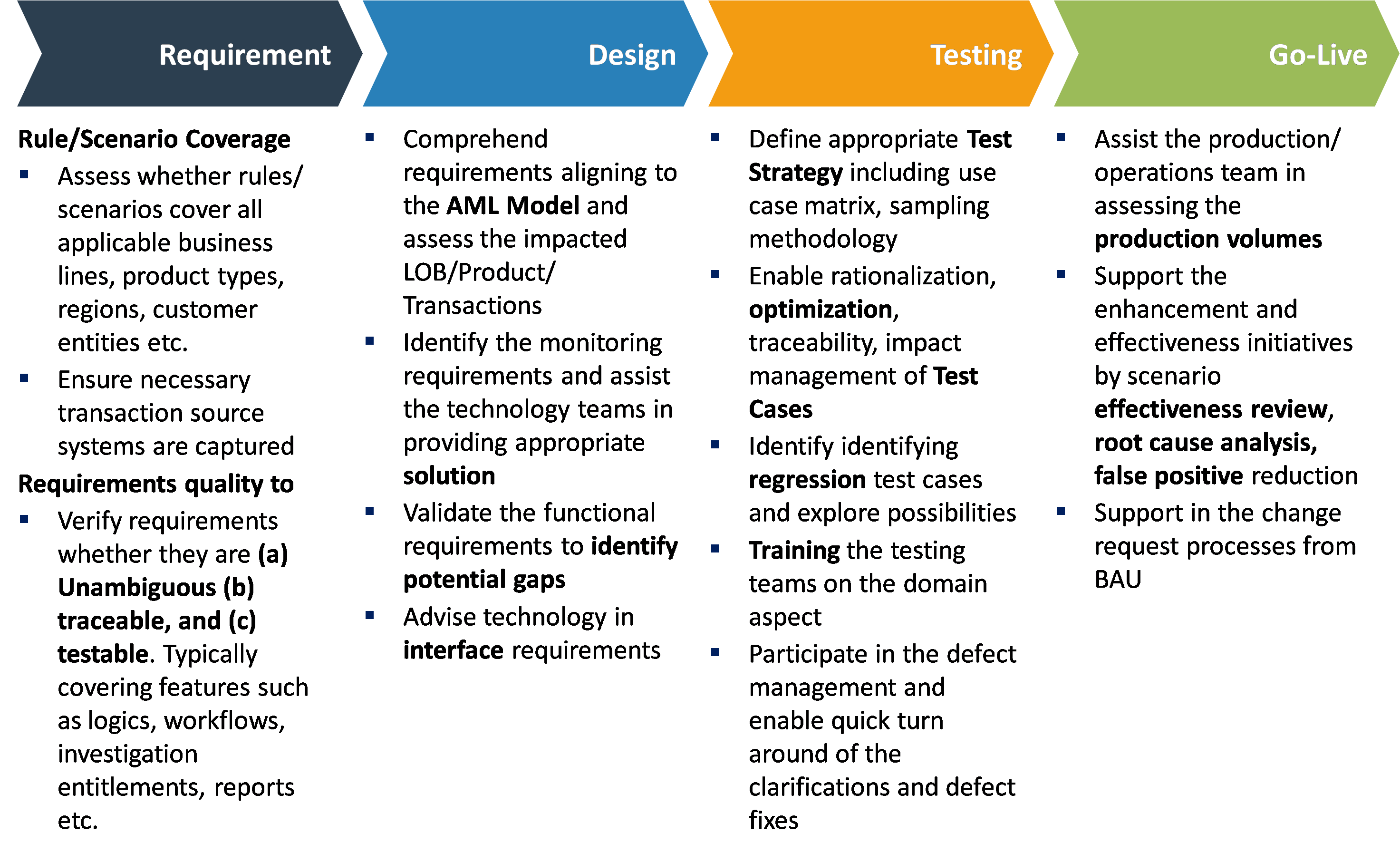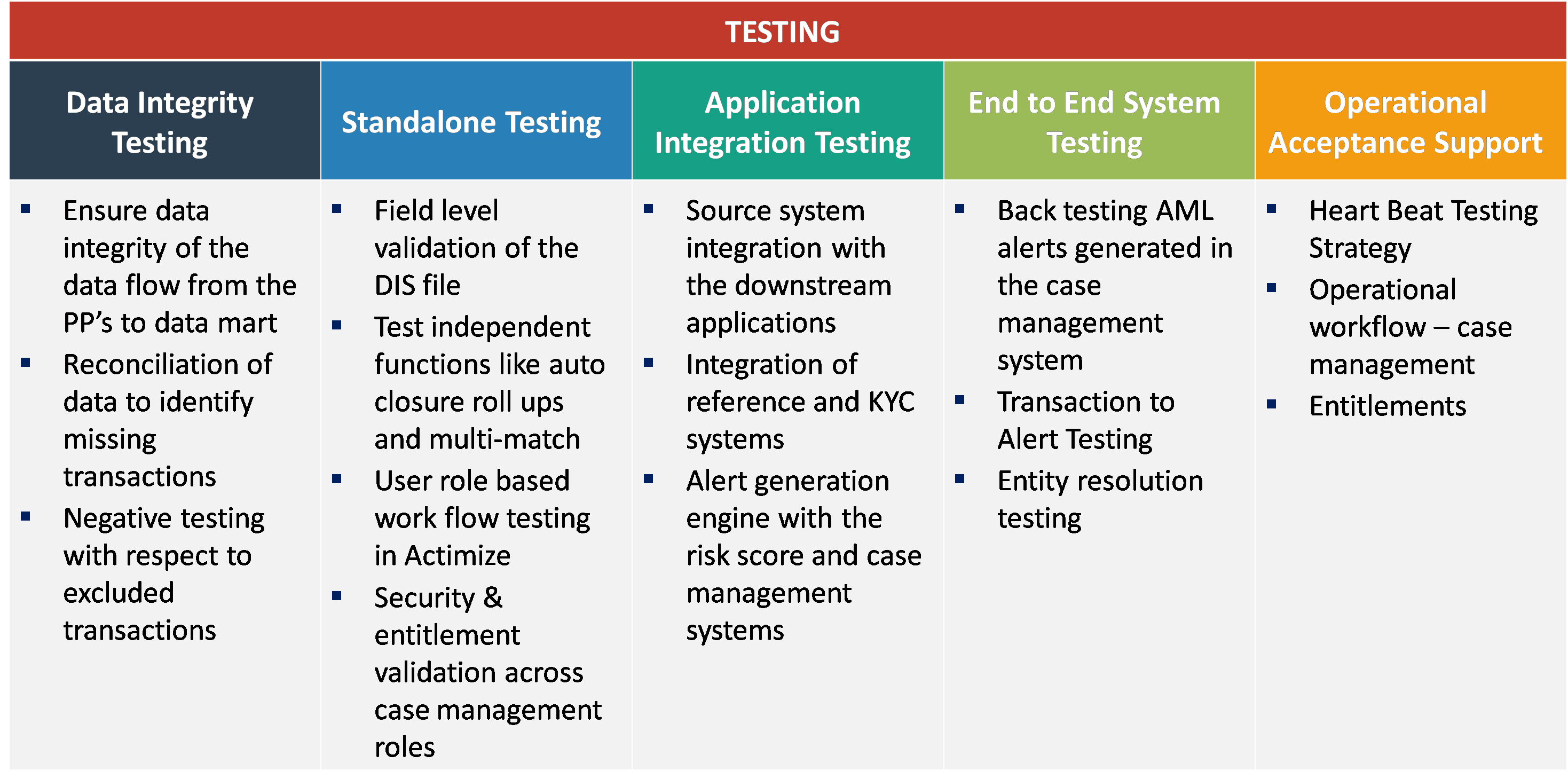 Key Benefits
Our risk-based testing approach will enable you to improve effectiveness of the rules and scenarios and cover all critical scenarios as per regulatory requirements.
We help you improve the efficiency of your compliance personnel by implementing appropriate risk-based scenarios.
Our data analytics capabilities will help you determine or tune threshold values.
We enable you to assess the gaps in current transaction monitoring program and integrate you into the current and potential future technology environment.
Key Differentiators
Certified ACAMS experts.
Experience in working with AML requirements of Tier 1 Global Banks.
Expertise in handling AML testing across geographies and countries.
Experience in managing a diverse range of AML products including Actimize, Mantas, Norkom, Fircosoft, Accuity, AMLOC, SAS AML etc.
Up-to-date knowledge on regulatory requirements across globe.
System Architecture assistance in look and feel of the system.
Expertise in managing AML requirements across non-English speaking countries as well.