Accelerate
Next
Every transformation journey is unique. What's common is the need for speed. And the enormous risk associated with getting it wrong. Only Maveric can Accelerate your Next.
We drive successful banking transformation through conscious contextualization, comprehensive competencies and core commitment.
"Maveric brought our floundering multi-geography strategic plan back on track. Rewired esoteric consultant-speak for business success. Transformation Intelligence Experts!"
DataTech
The Maveric Assert Domain model drove higher productivity, and dramatically greater coverage, all at a lower cost. To prove accuracy and veracity of data, Maveric is the best choice.
Digital Transformation
We've broken up our global roll out into API lots. About 80 at a time, across four business verticals. The Maveric agile digital development-deployment model quickly established itself as emphatically superior. Its now the de-facto standard for any of our vendors. Innovation that works!
Temenos Core Transformation
If you want the best out of T24, you want Maveric. We got a real wake-up call when they quickly demonstrated that 90% of what we were told were enhancement through customisation requirements, were a relatively simple matter of configuration. Just as they claim, Maveric does know how!
Quality Engineering
With dev-ops-business engaged in sync, in an agile model, the resultant high velocity is a game-changer. Maveric's triple edge in Digital-age QE technology, combined with QA Science Mastery and Banking Domain experience delivered rapid-fire launch of our upgrades with minimum defects. QE cannot get more early and efficient than this.
About us
Started in 2000, Maveric Systems helps global banking and fintech leaders accelerate business transformation through effective integration of domain, technology, future ready strategy and high velocity execution. Our 2200+ technology specialists and proven frameworks help our customers navigate a rapidly changing environment, enabling sharper definition of their goals and measures to achieve them.
Our global presence spans across 15 countries with regional delivery capabilities in Bangalore, Chennai, Dubai, London, Poland, Riyadh and Singapore. Our deep focus in banking combined with specialized competencies across Data, Digital, Core Banking and Quality Engineering, make us the preferred transformation partner for customers worldwide.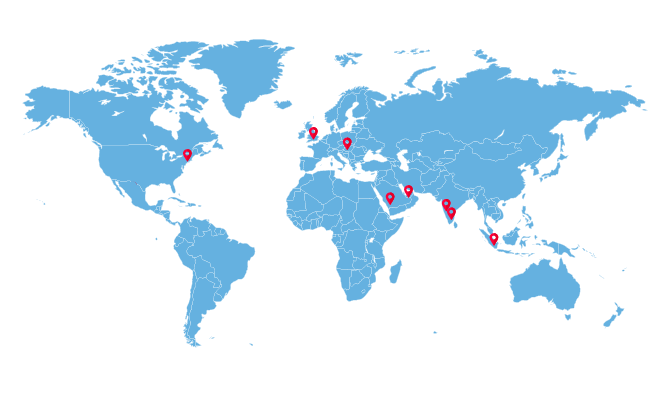 USA, New Jersey
Sales and delivery center for US
London
Sales and delivery center for UK
Poland
Delivery presence for European banking leader
Kingdom of Saudi Arabia
Delivery presence for regional banking leaders
Dubai
Sales and delivery hub for Middle East
Bengaluru, India
Digital and Data centers of excellence
Chennai, India
Core banking transformation center of excellence
Singapore
Regional delivery center
Maveric fosters accelerated transformation through its passionate and adventurous teams. We offer entrepreneurial work environment that elevates our next change agents for driving customer excellence.
Join Our Family And Be Part Of Our Transformations